More Information
From the leaders of the Albania Baptist Union:
Here is a summary of our history from the European Baptist Federation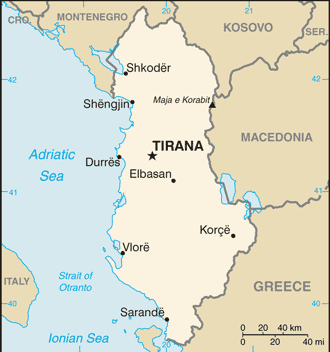 Christianity in Albania claims apostolic roots since the Bible mentions a visit of Titus to Dalmatia, the province on the territory of today's Albania (2 Timothy 4:10).
From the 15th century to the 19th century, under the rule of the Turkish Ottoman Empire, the dominant religion became Islam. In 1817 the British and Foreign Bible Society made efforts towards providing the Albanians with a New Testament in their own language. These foreign efforts led to establishment of the Albanian Evangelistic Brotherhood in 1892 which had three goals: to preach the Word, to publish it and to open schools in Albanian Language.
In 1944 Albania became a Communist state under the leadership of Enver Hoxha who had ruled the country till 1985. The Communist regime introduced harsh restrictions on both Christians and Moslems. The ruthless persecution against Christians resulted in imprisonments or executions of many religious leaders. In 1967 all religious buildings (about 2000) were closed and Albania was declared an atheist state.
In 1991 Albania regained independence and opened its doors to Christian missionaries. Currently there are about 160 evangelical churches in the country. The nation is comprised of: 70% Muslims, 20% Eastern Orthodox, 10% Roman Catholics and the total number of Protestants is about 9 thousand. The whole population of Albania counts about 3 million.
Albanian Baptists began in 1932 when Edwin and Dorothy Jacques, from the USA began serving in the city of Korce (southeast of Albania). Thanks to their dedication the Gospel advanced and influenced many people.
After the dark period of communism many missionaries, including the Baptists, started writing a new spiritual chapter in the nation's history. These missionaries together with indigenous leaders founded the Baptist Union of Albania in 2003. There are currently eight Baptist congregations in the union.